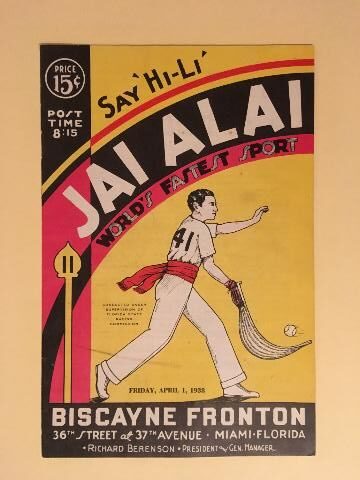 The old Biscayne Jai-Alai fronton program covers used the phrase – Say "Hi-Li"
Jai-Alai programs are the most popular items collected by Jai-Alai memorabilia collectors. Some of the old programs such as the Chicago Rainbo and New York Hippodrome programs are among the hardest ones to find. The MGM Reno programs are also difficult to find since it was only open for a few years. Also, the Big Bend, Hamilton and Brevard/Melbourne Jai-Alai programs are among the harder ones to find. Orlando Jai-Alai programs from the 1960's and 1970's are hard to find and bring higher prices. Dania Jai-Alai programs are among the easier ones to find since they've been operating for so long. There are countless different Dania Jai-Alai program cover styles and even numerous different program covers for a given season. Some of the Dania program covers are very unique and great for collecting, bringing good prices. Jai-Alai programs from the first day or first year a fronton was open and even the program of the last performance at a fronton at the close of a meet can be highly desirable.
A popular option for collecting Jai-Alai memorabilia is purchasing on eBay. Be careful when collecting and be sure to contact the Seller and ask questions about items you are considering. Jai-Alai programs with "no writing in them" are worth considerably more than ones with writing. Some programs may have writing in them of only the results and very nice handwriting at that, so those are more acceptable for collecting than others with sloppy writing and markings. Having those game results could be interesting to some collectors as it's hard to find old Jai-Alai results. Also, be cautious as programs may have rips, tears, spots or stains, coupons cut out of them, etc. Photos shown by Sellers many times will not show all the program defects. It's better to be safe than sorry so always be sure to ask the Seller questions before bidding or purchasing and don't be afraid to ask the seller for more photos.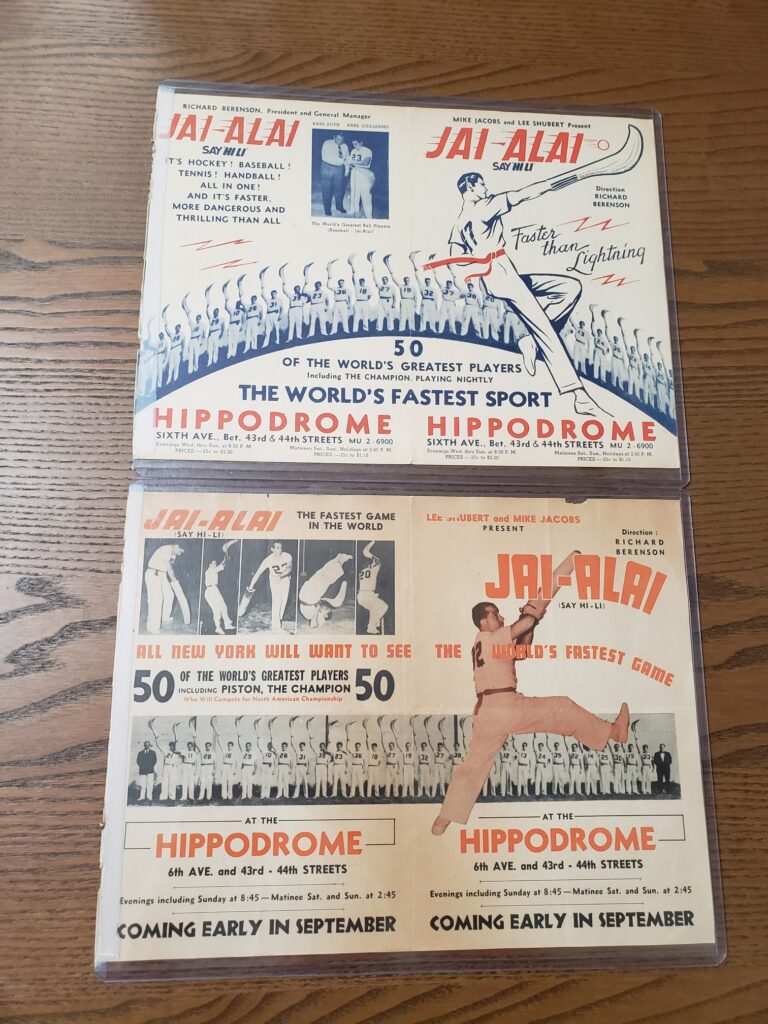 Above are some New York Hippodrome Flyers (and Flyer back sides shown in the middle photo) along with some other Hippodrome memorabilia from the opening night.
Below are a few program cover photos of the hard-to-find, older Orlando Jai-Alai programs spanning from opening night, January 5, 1962 through early 1980. Also shown is a black and white program cover from the early 1980's when Orlando Jai-Alai changed the program cover to a cheaper version featuring a grid of player head-shots (that style continued for a number of years). Note the controversial left-handed cesta photo on the opening night program in 1962.