Check Out the Mo Crank Stat Packs!
Jai•Speed Stat Pack for Battle Court (May 5)
Jai•Speed Stat Pack for Pelota (May 30)
See the SayHiLi 2023 Battle Court Page
—————————————————————————————————————————————————-
Pelota games Sunday thru Tuesday at 1:30-pm
Magic City Fronton's "Pari-Mutuel Jai-Alai Games"
Congratulations on the 6th Year!
Open to the public on Sundays (doors open 1-pm)
Mo Crank's Jai•Speed Stat Pack for Pelota
—————————————————————————————————————————————————-
"Faster than Lightning"
IT'S HOCKEY! BASEBALL! TENNIS! HANDBALL! ALL IN ONE!
AND IT'S FASTER, MORE DANGEROUS AND THRILLING THAN ALL
It's Jai-Alai – just say "Hi-Li" and you've correctly pronounced the name of the World's Fastest and Most Sensational Sport, and the exciting action-packed, faster short-court version of this Jai-Alai game is being played at Magic City Casino & Jai-Alai in Miami, Florida.
Magic City offers two kinds of Jai-Alai, Pelota (pari-mutuel) & Battle Court and you can BET ON IT!
Magic City Jai-Alai Pelota games at 1:30-pm EST feature typical pari-mutuel wagers on (8) Jai-Alai games each performance with (8) players or teams competing in each game. Pelota games are Sunday through Tuesday at 1:30-pm through June 27. July and August are off-months for practice and special tournaments; USNJAC and World Super Court. Pelota returns Tuesday, Sept 5 for a Monday through Wednesday schedule which ends on December 5. Wager at these locations or online with watchandwager or mywinners (check with them for approval in your state).
Also be sure to enjoy Jai-Alai Battle Court matches at 7-pm EST on Friday nights and at 5-pm EST after the Jai-Alai Pelota games on Monday and Tuesday. Live in-house attendance allowed for Friday night Battle Court matches and a FREE WJAL cash contest too! Jai-Alai Battle Court matches are head-to-head singles and doubles Jai-Alai matches between two players or teams from the (5) competing Battle Court teams with 6-matches each day. Battle Court matches are formatted much like tennis matches for the NEW Sports Betting on Battle Court Jai-Alai. Note: the New Sports Betting on Battle Court Jai-Alai is currently available in eight states along with Mexico and Ontario through BetRivers.com. DraftKings has also started taking sports betting wagers on Battle Court matches.
Welcome to SayHiLi.com, the "Total Package Jai-Alai Website" for both versions of Magic City Fronton Jai-Alai with info about the game of Jai-Alai, rules, terminology, odds, Jai-Alai wager types with examples, Jackpot carryovers, takeout rates and even Jai-Alai wagering systems. Find season schedules and where to wager on Magic City Jai-Alai in-person or from your mobile devices (check out the Watch & Wager website). View the latest scoop on Magic City Jai-Alai Injury Reports and Jai-Alai player Scratch History.
SayHiLi.com applauds Magic City Fronton management and support staff for their innovative thinking in providing fans with exciting entertainment options and promoting the action-packed short-court SUPER-FAST version of the sport of Jai-Alai for both Jai-Alai Pelota games (pari-mutuel wagering) and the NEW Battle Court Jai-Alai matches with sports betting! Magic CIty Fronton's insight and focused dedication on offering two versions of this great sport of Jai-Alai in Miami, Florida where it was introduced to the USA nearly 100-years ago is to be commended! Stu Neiman's own words summarize Magic City Jai-Alai's unique Pelota games and Battle Court matches quite nicely, "At Magic City we're just working on creating the most entertaining short-court Jai-Alai experience possible."
Subscribe to YouTube's Magic City Jai-Alai Channel where you can watch the amazing Jai-Alai Pelota games in HD for FREE and chat with other fans and even ask announcers Stu and Andrew your questions and get answers! Watch the intense competition of the Battle Court sports betting matches on watchjaialai.com or through the other options/apps and even on ESPN3 on Friday nights!
Check out the Magic City Hustle trailer and movie too! The Magic City Hustle is a great documentary that's superb family entertainment and showcases how the short-court Jai-alai development program started at Magic City Casino along with personalities of the people involved….a MUST SEE! The movie cost is only $5 and you can watch it as many times as you want!
Magic City Jai-Alai Pelota fans love the very popular $1 Jai-5 jackpot wager which starts in game 3 of the Pelota games (aka pari-mutuel games) and pays $2,000 minimum if you are the only winner with 5 of 5 game winners correctly selected. This Jai-5, another name for a Pick 5 Jackpot wager, has a jackpot that continues to grow if there is no single 5 of 5 winner and pays consolation payouts each day there is no 5 of 5 winner. The record payoff for the $1.00 Jai-5 is a WHOPPING $27,348 paid to a single lucky ticket holder on April 5th 2021! It's a Jackpot wager, so you must be the ONLY WINNER to hit the Big Payoffs! There have been numerous Jai-5 jackpots paid out to single ticket holders since the beginning of this popular wager; 132 single jackpot winners over the last 4-years and four jackpots paying over $10,000! See the history of BIG PAYOUTS at Magic City Jai-Alai HERE!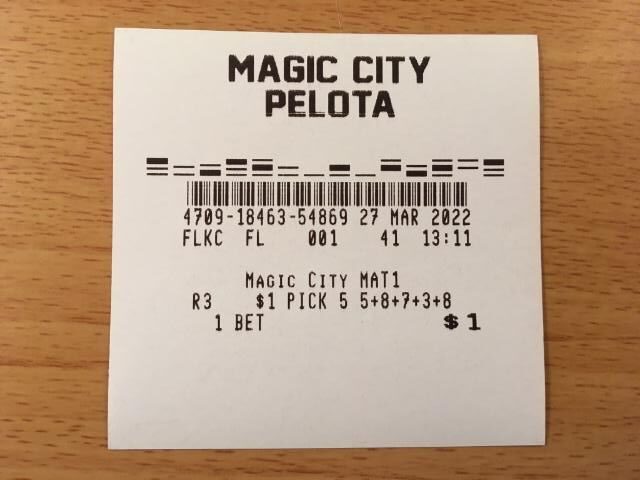 A new bet was added to the Magic City Jai-Alai pari-mutuel (Pelota games) wagering menu in 2020, the Mighty Ocho, which is a $1.00 Pick 8 Jackpot wager with the Jackpot paid out to a single winner. The Mighty Ocho works just like the Jai-5 Jackpot wager except it offers a $5,000 guarantee to a single ticket holder with 8 of 8 winners and starts game 1 of the Jai-Alai Pelota games! Only a few Jai-Alai facilities in US history ever offered a wager this challenging and the Magic City Jai-Alai Fronton is the home of where two lucky bettors have become winners of the Mighty Ocho Pick 8 Jackpot wager; on June 14, 2021 and June 28, 2022!
Be sure watch some replays of the 3rd Annual USNJAC (U.S. National Jai-alai Championship) event which was held from August 19-21, 2022 at the Magic City Fronton. Once again, blood is thicker than water as two sets of Magic City brothers continued the tradition of Magic City roster brother domination of the 2022 USNJAC Pro events and took home ALL of the Pro Tourney prize money, $25,000! Watch it on watchjaialai.com!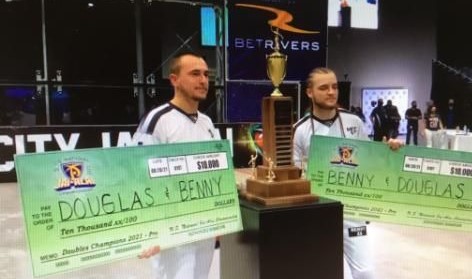 Also, 2022 was the inaugural year for the highly successful and NEW "$50k World Super Court" Doubles Championship Tournament with the Finals at Magic City Jai-Alai. There were 4-qualifying tournaments during 2022 including one overseas qualifier. The final 8-teams faced-off in the October 6th First WSC Championship Finals with LARGE cash prizes; $25k for the 1st place team and $12k for 2nd! Find history of the WSC results on this website. Only at Magic City Jai-Alai where they're "Keepin' the Jai-Alive." World Super Court returns in 2023. stay tuned for exact date and time this summer!!
SayHiLi.com promotes collecting Jai-Alai programs and other memorabilia. Be sure to check out the website pages with photos of examples of some popular collectible Jai-Alai programs and memorabilia under "Other Links." You will also find important tips for beginners on collecting Jai-Alai memorabilia. Take a look at the program cover photos from some of the hard-to-find Jai-Alai programs. Search on eBay under "Jai-Alai Programs" to find Jai-Alai program listings and search "Jai-Alai" to find all types of memorabilia!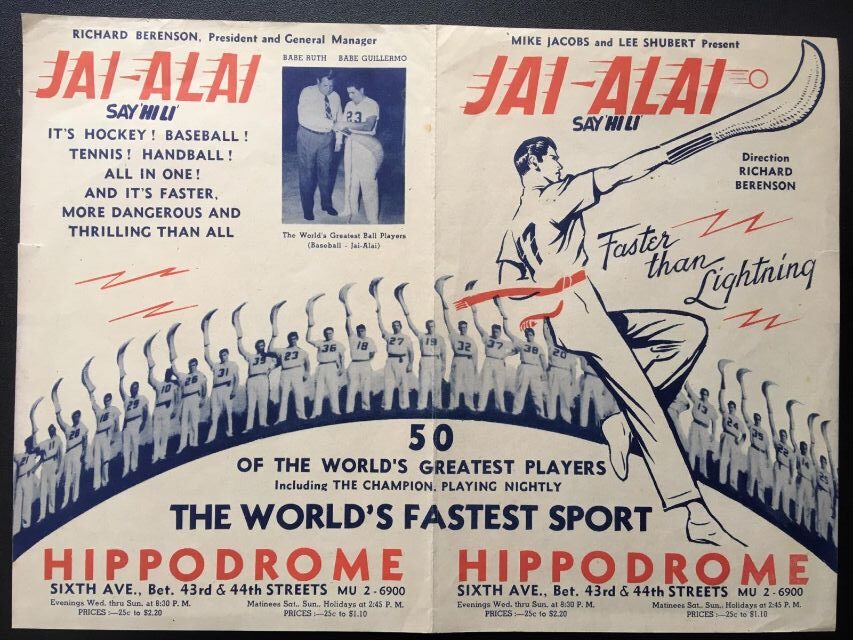 SayHiLi.com shows a current summary US Jai-Alai Fronton and Program Photos which also features opening and closing dates of professional Jai-Alai facilities in the USA and betting ticket examples from most of the Jai-Alai frontons. This website also has a page on the fascinating history of Magic City Casino & Jai-Alai which began as West Flagler Kennel Club in the early 1900's with greyhound racing.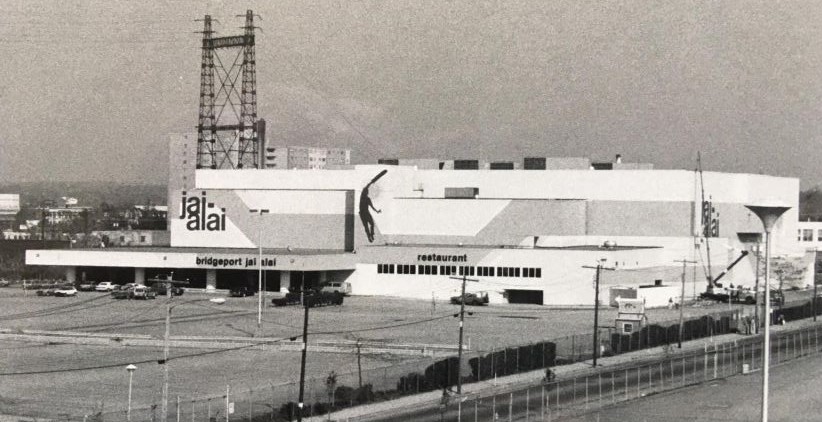 Last but certainly not least, be sure to look under Other Links for "Famous Women in Jai-Alai" which shows a program cover page and game page photos from a Tijuana, Mexico Jai-Alai program from the late 1950's era when only women competed against each other in the first six Jai-Alai games of the (17) game performance. On that web page you can also find a link to a news article on the first U.S. female professional Jai-Alai player, Becky Smith who played at Calder Jai-Alai as "La Primera" and a photo with some history on the famous Katherine Hines.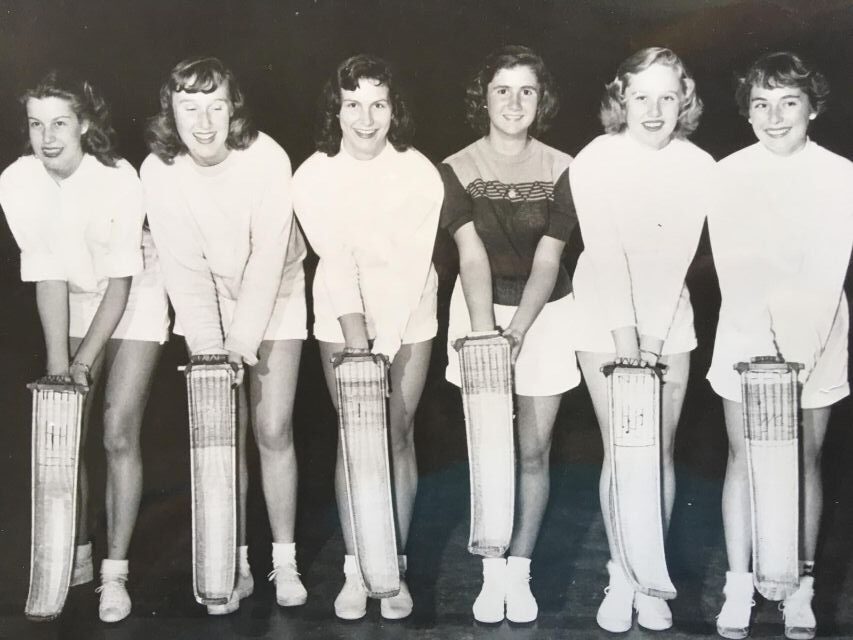 Just Say "Hi-Li" and you've correctly pronounced the name of the World's Fastest and Most Sensational Sport called Jai-Alai and you can Bet on It! Bookmark this site to your favorites and visit often!
Magic City Jai-Alai – "Keepin' the Jai-Alive"