Retolaza was born in 1964 and debuted professionally in 1984 at Durango Spain. He was Rookie of the Year at Miami Jai Alai (1986) and played there until the players' strike in 1988, when he returned to Spain for the next 8 years, competing in tournaments partnering with the likes of Bolivar, Alberdi, Cachin, Remen and other top talent. He returned to the US in 1995 where he was a top backcourter at Milford until his retirement in 2000. Info provided by Mark Kaminsky, historian of the National Jai-Alai Association.
Here is some season record history for Retrolaza (#54) from Milford programs. The info is mostly mid-season stats. Milford had year-round games from 1996 to 2001 since Bridgeport closed in 1995.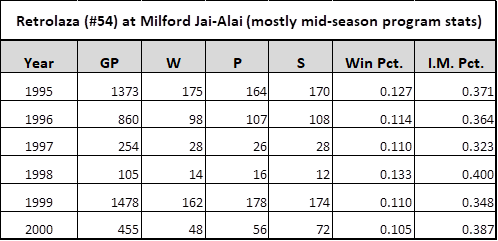 ———-
Note that 1997 GP for other players ranged from 127-260 so this program info was early in the meet. The 1998 stats provided show GP of 105 for Retrolaza while other players had GP ranging from 382-829 at the time, so assuming he started later in the meet or was dealing with an injury. The 2000 stats show 455 GP while some players had up to 830 GP at that point; this was Retrolaza's retirement year.
The Milford season record history for Retrolaza was provided from programs owned by Alecs Smith, another well-known Jai-Alai historian and Jai-Alai artist. Alecs designed an Orlando Jai-Alai program cover for their Citrus Tournament one year and also created the logo for the SayHiLi site. He is also a pretty darn good amateur player according to several reliable sources.
Retrolaza's son, Iriondo (#45), takes to the short-court for his Magic City professional career debut representing the newly branded Miami Lifestyle Chargers against the Rebote Renegades on Friday night Battle Court this week at 7-pm.  Iriondo is partnered with Zulaika in the 2nd match of the night versus the Renegade's team of Goixerri-Ben.  The 4th match of the night features Iriondo vs Ben in a singles match. 
SayHiLi wishes Iriondo the best in his professional debut. Iriondo will also be playing in the Magic City Pelota games which start on Monday, February 13th at 1:30-pm EST.