Week 9 of Magic City Pelota games ended on Tuesday April 12 with Goixerri winning his first Golden Cesta Award with 3-singles wins for the week. This is his first GCA since his debut at Magic City Jai-Alai on February 12, 2022. Five other players had 2-wins each. The chart below shows how all players fared in singles games for Week 9.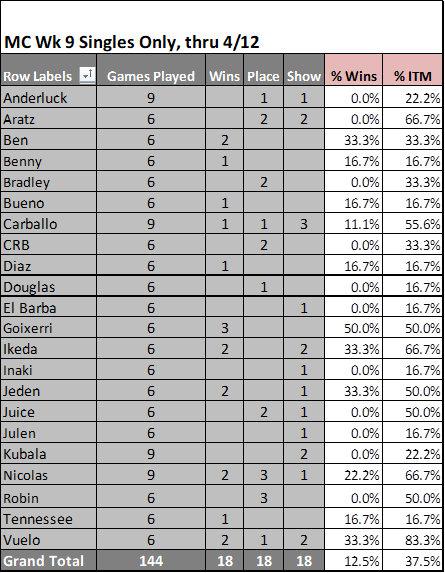 Carballo leads the Singles Championship for 2022 which concludes at the end of the 2022 season in November. He has 16-wins while Bueno is 2nd with 15-wins. Goixerri is right behind them with 14-wins. See the full Singles Championship data for all players in the table below (players shown alphabetically).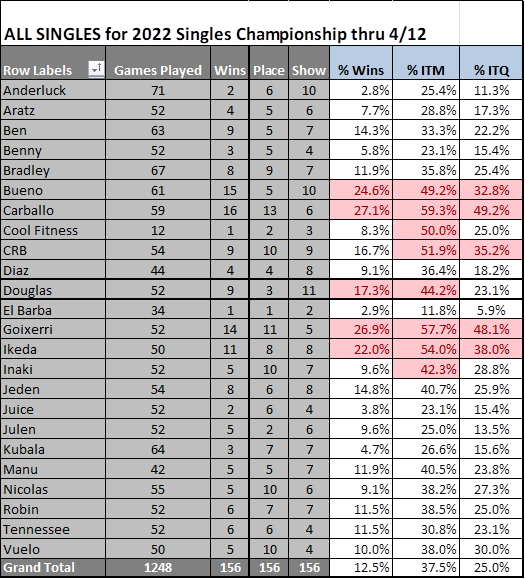 The 1st Doubles Tournament for 2022 concludes on Sunday, April 17th, so there are only two doubles games left in this competition. Be sure to check out the blog post on how this Doubles Tournament is coming down to the wire and there are 5-teams still in contention for the first and second place prize money. The full stats for the 12-doubles teams are shown below.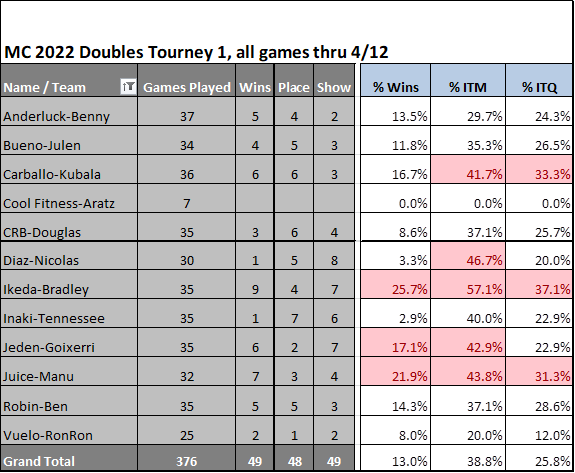 All Singles and Doubles games combined for all the players are shown below for those who prefer this option.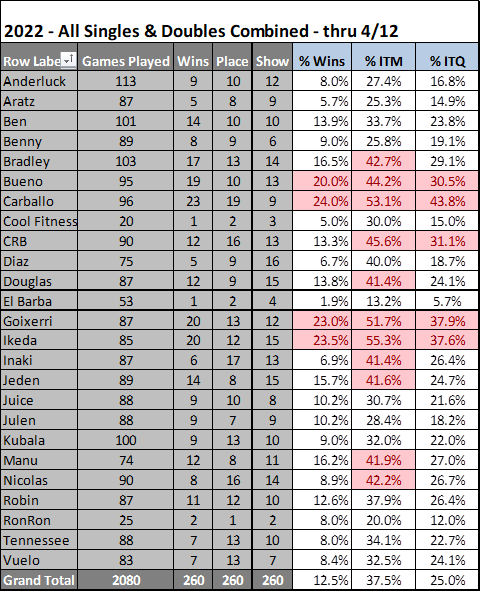 The Jai-5 Jackpot is growing and must be given away at the end of this short 10-week meet. The mandatory payout of the $1.00 Jai-5 and Mighty Ocho is expected to be on the last day of the meet on Tuesday, April 19th. The Jai-5 currently stands at $2,717.60, well above the $2,000 minimum guarantee for a single winning ticket with all 5-winners correctly selected. The Mighty Ocho, a $1.00 Pick 8 Jackpot wager, is currently $760.80, however the minimum guarantee is $5,000 for a single winning ticket with all 8-winners correctly selected. A Mighty Ocho minimum payout of $5,000 is guaranteed to be split among all ticket holders with the most winners correctly selected on the mandatory payout (aka force-out) day.
Pelota games at Magic City Jai-Alai will resume on Sunday May 1, with a new Doubles Tournament starting that day on games 5 & 7. Be sure to sign up for wagering accounts at watchandwager.com or myWinners (myWinners if you are a Connecticut resident); some state restrictions apply so be sure to check with these ADW providers for the latest info. One can also wager at Magic City LIVE on Sundays or for any of the Pelota game performances at the Magic City Sports Club or other venues listed HERE.