Welcome to SayHiLi's FREE Weekly Pick 3 Spring Contest for Battle Court Matches
Goal: Select the winning Battle Court Team for each of the 3-days of Battle Court matches for the Contest Week; Friday through Tuesday. The Battle Court point system used at the Magic City Fronton is also used for this Contest; Singles match wins are worth 1-point and Doubles match wins are worth 1.5 points for each game day. The Battle Court Team with the most total points for the day is the winning Team. If you are the ONLY Contestant with all (3) Battle Court Team winners correctly selected for each of the (3) Battle Court match days for the Contest Week, then you win the Contest Prize. Should a tie occur, there is a Tie-Breaker based on the Winning Team's Score on the final day.
Enter each weekly contest and you can email your one FREE Contest Entry between Wednesday and 6:50-pm EST on Friday for each contest week.
There is a new Contest each week, a total of 10-Contests. Contests run from 2/24 through 5/2.
Be sure to check out the Official Contest Rules at the bottom of this page.
Follow these 4-easy steps to enter:
Create a "Contestant Name" for this Contest.

only alpha-numeric characters
5-12 characters in length
no spaces and no special characters allowed

Pick 3 – this is where you select your Battle Court Team Winner for each day of the 3-day contest; Friday, Monday, Tuesday
Select a Tie-Breaker Score for Tuesday's match.
Send us an email with your One-Line Contest Entry. Be sure to follow the directions for the One-Line Contest Entry. You must use the exact format as shown in the EXAMPLE. Send the email to [email protected]
It's simple to create your One-Line Contest Entry:
Use the one and two character Contest Team Codes below to specify your winning Battle Court Team for each of the three Battle Court match days. There are (5) Battle Court Teams and the Contest Team Codes for each are in bold font:
Chargers = Ch
Cyclones = Cy
Devils = D
Renegades = R
Warriors = W
Send us an email to [email protected] with "Contest" in the Email Subject Field
Include your One-Line Contest Entry in the body of the email
Be sure to submit your entry between Wednesday and 6:50-pm EST on Friday for each Contest week.
Here is an EXAMPLE of a One-Line Contest Entry:
Bolivar123,Ch,D,W,6.5
Contestant Name: Bolivar123 (note 5-12 apha-numeric characters only, no spaces)
Friday Night Team Winner: Chargers, but used Contest Team Code Ch
Monday Team Winner: Devils, but used Contest Team Code D
Tuesday Team Winner: Warriors, but used Contest Team Code W
Tie-Breaker Score: 6.5 (total points for the Warriors on Tuesday's matches)
AND please don't forget to use a comma to separate the data (just like this EXAMPLE)
Here are the Contest Team Codes to use for each week of the (10) Spring Pick 3 Contests:
Note: correction – Contest #8 on Friday is Warriors vs Renegades (W or R) not W or D option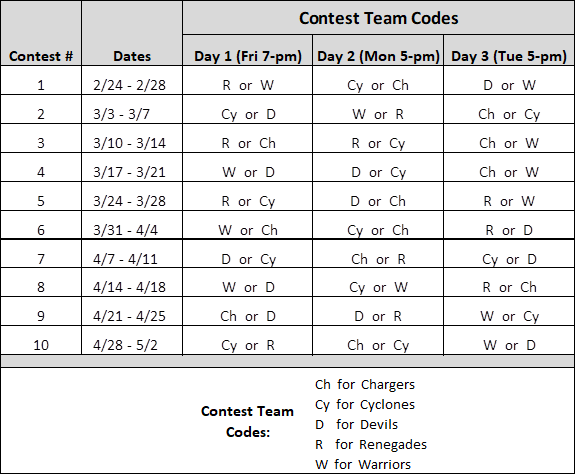 Where can I find information on the 6-matches for each day of this Spring Pick 3 Contest for Battle Court?
It's simple, on the Magic City website, go to Battle Court Matches & Results. Select the Date of the matches from the drop-down menu at the top. Get even more contest help by going to BetRivers and looking at the lines for the contest matches.
Can I see other Contestant's Entries?
You sure can! On Friday Nights, after the Contest Entry Deadline, watch for a table of Contest Entries which will be published near the top of the SayHiLi home page.
Official Contest Rules:
First Contest begins Friday Feb 24.
Final and 10th Contest begins Friday April 28.
This is a FREE Contest with about $50 estimated value in prizes for winner donated by the SayHiLi staff.
Limit of (2) Contest entries per household.
Limit of (1) Contest entry per person and per email address.
A Battle Court week begins on a Friday and ends on a Tuesday for the purposes of this Weekly Pick 3 Spring Contest.
You can join other Contestants in competing for Contest Prizes any week of the 10-weeks.
Please keep the same "Contestant Name" for the duration of this Spring Contest.
Entries may be submitted starting on Wednesday each week and MUST be received by DEADLINE of 6:50-pm EST on Friday nights each week to be a Valid Contest Entry.
Invalid Contest Team Codes may cause the Contest Entry to be rejected and not considered a Valid Contest Entry. If you submit early and we catch errors, we will notify you.
Should a Battle Court game day end in a tie of 4.0 to 4.0, then BOTH Teams are considered winners.
SayHiLi will notify Contest Winners by email to verify/obtain mailing address for Contest Prizes. Be sure to check your Spam Folder for our response if you don't see it. Please email us if you haven't been notified.
If Contest Winner has not previously provided a mailing address for Contest Prizes, the Contest Winner will have 14-days from notification of winning the Contest to provide an address for mailing Contest Prizes, or Contest Prizes may be forfeited.
Magic City employees are allowed to enter this Contest, but Battle Court players and judges are not allowed to enter. SayHiLi staff will not be participating. SayHiLi welcomes Contest participation by Stu and Andrew!
SayHiLi reserves the right to terminate any Contest at any time for any reason. Your participation can help ensure continuation of these Contests.
Contest Prizes: In addition to the important bragging rights, Contest Prizes for winner(s) are a minimum of (5) pieces (YES, 5-pieces) of Jai-Alai memorabilia which will include an assortment of items including (1) Jai-Alai program at a minimum (from 1970's and prior) and may include other memorabilia items such as newer Jai-Alai or Pelota programs, brochures, bumper stickers, photos, postcards, trading cards, bet tickets, matchbooks/matchbook covers and more Jai-Alai related items. Note: In the event no Contestant correctly picks all (3) winning Teams for the Battle Court week, there could be a "consolation" prizes awarded – keep reading. Update Note (2/21 am): SayHiLi may at its discretion award "consolation" prizes for a contestant with (2) Teams correctly selected (one winning Team being the final day winner) AND the closest Tie-Breaker score in the event of NO winner with all (3) Teams correctly selected. There must be only one outright winner for the "consolation" prize to be awarded.
Tie-Breaker Score: If you tie one or more other Contestants in picking all (3) Team winners for a week, then your Tie-Breaker Score comes into play. Total match points possible for the Battle Court day are either 7.5 or 8.0. The minimum score for a Team to win on a Battle Court match day is 4.0 and winning Team scores could occur for each 0.5 point increment between the low of 4.0 and high of 8.0. Contestants are required to submit their guess for the total points of their winning Team for Tuesday. In the event of ties in picking all 3-Team winners correctly for the week, you win the Tie-Breaker by having the CLOSEST SCORE to the actual winning total point score for Tuesday. If there are still tied Contestants, then multiple winning Contestants receive Contest Prizes for that week.
Only Contestants from USA lower 48-states and DC are allowed to participate for Contest Prizes. Contestants outside the USA lower 48 and DC can still enter and compete for bragging rights.
---
Contest #10 – Final Contest Winners: Tspaceship, Whogotit, Hudepohl, Tshurk, BChcapper and Louisvillain