Another incredible week of Magic City pelota games concluded on Tuesday, April 5th at Magic City Jai-Alai at the Magic City Casino in the Magical City of Miami, Florida. The exciting Jai-Alai action keeps getting better and better!
Carballo won the Golden Cesta Award for week 8 for the most singles wins for the week, scoring wins in 3 of his 8-singles games. This is his 7th GCA in his Magic City Jai-Alai career and that secures him the spot of 3rd most GCA's right behind Douglas with 34 and RonRon with 16. Click Here to view the Golden Cesta Award history for Magic City Jai-Alai.
The team of Carballo-Kubala also scored victories in 3 of their 4-doubles games for week 8 in the first doubles tournament of 2022. This is significant as they now have 6-team wins in this big money tournament and are only 1-win behind the teams of Ikeda-Bradley and Juice-Manu which have 7-wins each. Since this tourney ends on Sunday, April 17th there are only 4-days left in the tourney which means each of the 12-tourney teams has only 5 or 6 chances left to win a doubles victory. The first place team wins $10,000 while the second place team splits $5,000. Click Here to view the complete doubles team chart for the first tourney for 2022.
Carballo leads the 2022 singles championship for the player with the most singles wins for the year. He currently has 15-singles wins and Bueno is on his tail with 14-wins. Third place with 11 wins is Goixerri. Click Here to view the complete singles wins chart for 2022.
The combined singles and doubles records is shown below for those fans who like to mix the talents of the Magic City roster. This chart also shows Carballo, Carballo and Carballo for most wins, top % Wins and top % ITM, plus an amazing 48.2% in-the-quiniela!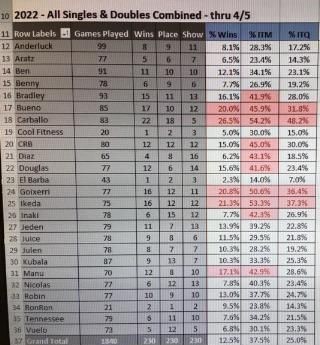 Steve M.