The Warriors put the hammer down in their bid for second place by beating the Chargers 6.5-1.0 on Monday evening. The Warriors won 10 of 13 sets in Monday's match-ups.
The Chargers earned 1.00 point in the opening match with Spinner's win over Bueno in straight sets (6-5, 6-4). While the Warriors took the last five matches.
For the Warriors; Inaki beat Douglas (6-3, 6-1), Nicolas/Bradley beat Jairo/Roque (6-3, 6-3), Julen earned a 3 set win over Benny (6-2, 2-6, 6-4), Inaki/Kubala beat Jairo/Spinner (6-4, 6-3) and Nicolas/Bradley took Flores/Douglas (6-5, 6-3) in the last match.
The only way the Renegades can win second place is if they earn a 7.50 point sweep over the Cyclones or by only losing one singles match to earn 6.50 points in which they would tie the Warriors in points; but would win the head to head tie-break. Tuesday's matches should be exciting to say the least.
It is interesting to note that the Cyclones have a better set win percentage over the Renegades (57.4%) than the Warriors (52.8%), but have earned more game points over the Warriors (18.00) than the Renegades (14.50). See the tables below for more details.
Remaining schedule:
November 15: Renegades vs Cyclones
November 18: Battle Court Championship Finale (top two teams face-off)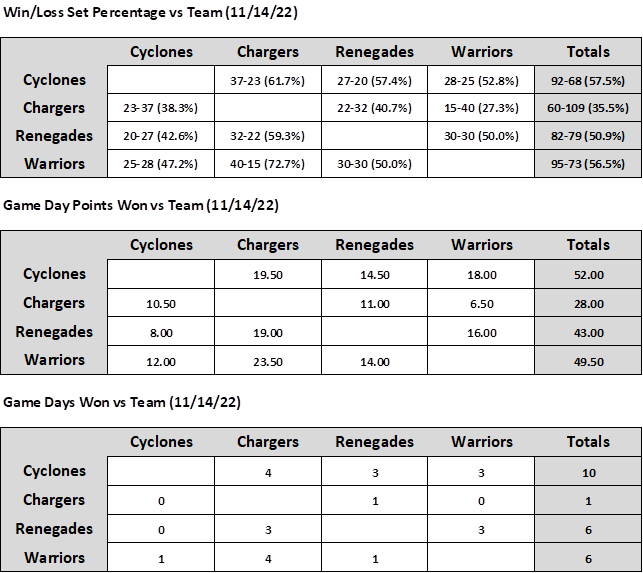 Live viewing is Friday evenings at 7:00pm at the Magic City Fronton with doors opening at 6:30pm. Admission is free and there are give-a-ways and promotions for those in attendance.
You can watch the action on Fridays at 7pm and Mondays/Tuesdays at 5pm (EST) at watchjaialai.com, laligasportstv.com, streamstak.com/jaialaitv (Triple B Media), FTF Sports Network, ESPN3, BetRivers youtube channel or download the free Jai Alai Channel app.