What a battle for second place Friday evening's match was. Trailing the Warriors by 1.50 game points in the standings, the Renegades beat the Warriors 4.50-3.00 to tie for second place. With each of the four Battle Court squads having only one match left, the Chargers have secured first place for the second time in Battle Court history.
The Renegades scored 4.50 points by winning all three singles matches with Aratz over Nicolas (6-5, 0-6, 6-5), CRB defeating Bradley (6-1, 1-6, 6-3) and Ben beating Kubala (6-5, 6-4). The Renegades picked up 1.50 points with a doubles win by Correa/Aratz coming back to defeat Bueno/Julen (4-6, 6-0, 6-2).
The Warriors bright spot was with Inaki teaming with Kubala to defeat Goixerri/RonRon (6-2, 5-6, 6-4) and later, Inaki teaming with Nicolas to hand Goixerri/RonRon their second doubles loss of the evening (6-0, 6-2).
Monday's and Tuesday's matches will be just as exciting as the second place teams will try to break the tie with the Warriors playing the Chargers on Monday and the Renegades taking on the Cyclones on Tuesday.
The Warriors look to have the advantage as they have scored 17.00 points while only losing 5.50 points to the Chargers this season. They have also won 30 out of 42 sets (71.4%) against the Chargers.
The Renegades will have a tougher time as they have scored 8.00 points will losing 14.50 points to the Cyclones this season. They have won 20 out of 47 sets (42.6%) against the Cyclones.
Remaining schedule:
November 14: Chargers vs Warriors
November 15: Renegades vs Cyclones
November 18: Battle Court Championship Finale (top two teams face-off)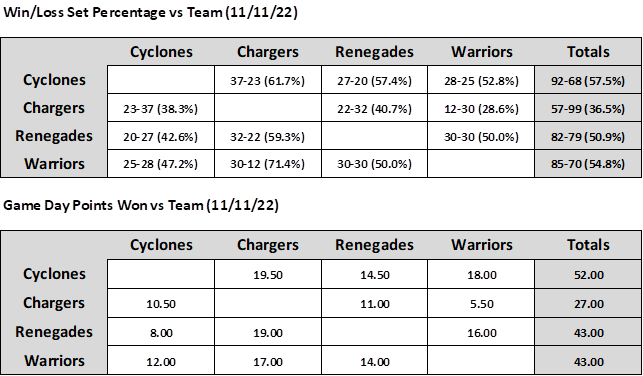 Live viewing is Friday evenings at 7:00pm at the Magic City Fronton with doors opening at 6:30pm. Admission is free and there are give-a-ways and promotions for those in attendance.
You can watch the action on Fridays at 7pm and Mondays/Tuesdays at 5pm (EST) at watchjaialai.com, laligasportstv.com, streamstak.com/jaialaitv (Triple B Media), FTF Sports Network, ESPN3, BetRivers youtube channel or download the free Jai Alai Channel app.