The first place Cyclones took a 4.00-3.50 game day victory over the Chargers on Tuesday evening.
Earning 3.50 points for the Chargers, they had doubles win from Jairo/Roque over Williams/Manny (6-4, 6-2) and singles wins with Spinner beating Ikeda (4-6, 6-2, 6-2) and Benny coming back against Carballo (3-6, 6-1, 6-4).
Ikeda took the first set, but Spinner gained momentum and never let up for an impressive win. Likewise, Carballo had great control and excellent play to win the first set (6-3), but Benny battled back (6-1, 6-4) in the second and third sets for the win. Benny ended the match with a powerful low running chula.
The Cyclones earned 4.00 points with a singles win by Manu over Douglas (6-4, 6-5) that was an action filled, back and forth battle. Williams/Manny defeated Flores/Douglas (6-5, 6-5) and Jeden/Manu finished out the day by coming back to earn the win against Jairo/Roque (1-6, 6-4, 6-2).
The Cyclones (52.00) still have a solid grip on first place with one game day remaining for them. Friday's match features a battle for second place with the second place Warriors (40.00) against the third place Renegades (38.50).
Friday's matches will feature:
Inaki/Kubala vs Goixerri/RonRon
Nicolas vs Aratz
Bradley vs CRB
Kubala vs Ben
Inaki/Nicolas vs Goixerri/RonRon
Bueno/Julen vs Correa/Aratz
Remaining schedule:
November 11: Warriors vs Renegades
November 14: Chargers vs Warriors
November 15: Renegades vs Cyclones
November 18: Battle Court Championship Finale (top two teams face-off)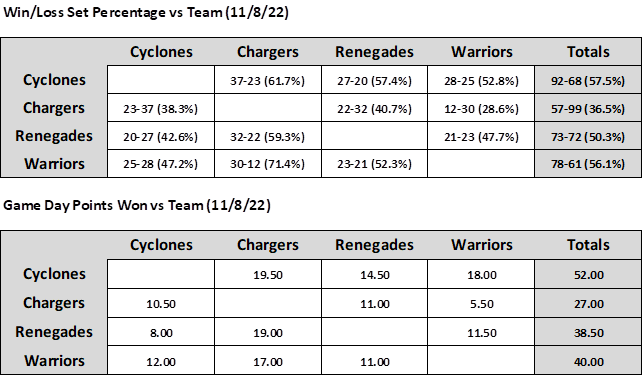 Live viewing is Friday evenings at 7:00pm at the Magic City Fronton with doors opening at 6:30pm. Admission is free and there are give-a-ways and promotions for those in attendance.
You can watch the action on Fridays at 7pm and Mondays/Tuesdays at 5pm (EST) at watchjaialai.com, laligasportstv.com, streamstak.com/jaialaitv (Triple B Media), FTF Sports Network, ESPN3, BetRivers youtube channel or download the free Jai-Alai Channel app.